Residents of a county in northwest China's restive Xinjiang region have petitioned local authorities for the release of an elderly religious scholar whose health has declined since he was jailed six years ago for "illegal religious teaching activities" and "murdering a student," sources said.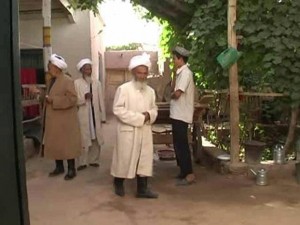 Ablimit Qari Hajim, 85, the former imam, or Muslim religious leader, of the Yurchi township mosque in Kelpin county (Keping in Chinese), Aksu prefecture (Akesu in Chinese), is serving a 17-year sentence in a prison near the regional capital Urumqi, according to current and former residents of Yoqirisu village, where the scholar resided.
Kelpin county residents, including Hajim's relatives and neighbors, signed a petition for his release and submitted it several times to the local police, county government, and autonomous regional government in Urumqi, requesting that the scholar be released because of poor health, they said.
"We all requested that Ablimit Qari Hajim be released to his to home if possible, because he is so old and weak," one of Hajim's neighbors, who requested anonymity for personal security reasons, told RFA's Uyghur Service. "He would perform his jail term at home under the guarantee of the people of Kelpin. However, the authorities refused our application, so [he] is still in prison."
Abdurahman Ozturk, a Kelpin county native and former neighbor of Hajim, who is now an independent journalist and television presenter at Uyghur-language Erk TV in Istanbul, said he heard that Hajim was severely ill and suffering from a psychological disorder.
Hajim is a famous religious person and scholar, not only in Kelpin county, but also the rest of Aksu prefecture, including neighboring counties, the sources said.
Sudden death
In the late 1990s, a teenager from a neighboring county, whom Hajim taught along with other students in his home in the mountainous area of Kelpin county to avoid attracting the authorities' attention, suddenly died in an accident, the unnamed woman said.
The deceased boy's parents and local residents had asked Hajim to lead a religious ceremony for him.
"But after a dozen years, the authorities detained Ablimit Qari Hajim and accused him of being a murderer," the woman said.
Tuyghun Abduweli, a Uyghur writer from Kelpin county who lives in exile in Canada, said he used to reside in a village neighboring Yoqirisu and knew Hajim well.
"The  main reason for his arrest was his outstanding reputation and religious influence among the people of Kelpin," he said. "The authorities really feared his existence, and they believed that Ablimit Qari Hajim's influences among the local Uyghurs would be a threat to the government."
Hajim originally had been detained in Aksu prison, but was moved to another facility outside Urumqi, the unnamed woman said.
Hajim's relatives, who visit him in jail every three to six months, indicated that he was in poor health and suffering from mental illness, she said.
"They said that nowadays Ablimit Qari Hajim's health condition is getting worse day by day, and sometimes he doesn't even recognize his sons or grandsons,' she said.
Arrests
Hajim's eldest son, Memet Qari, was also arrested on charges of "illegal religious teaching activities along with his father and has served six years of a life sentence in a prison near Urumqi, current and former residents of Yoqirisu village said.
"We were surprised by his [Hajim's] and his son's arrests, because he [Hajim] is one of the most respected and knowledgeable people in Kelpin county," the woman said. "He was also a member of the county's People's Political Consultative Committee."
The committee is a political advisory body in China, consisting of delegates from a range of political parties and organizations as well as independent members.
Since the 1980s, Hajim had taught religious studies to many young people, some of whom now live in exile in Turkey and European countries, and advised locals about familial and personal matters, current and former residents of Yoqirisu village said.
Eysa Qarim, a former student who now lives in exile in Netherlands, said when he studied under Hajim during the late 1980s, the Chinese authorities had enacted a reform and open door policy, which permitted an atmosphere of religious tolerance in Xinjiang, allowing such private religious schools to operate.
But during the late 1990s, the authorities began to strictly control religious figures and private religious schools, he said.
"As a young student learning the Muslim religion, I also was forced go to abroad for personal safety reasons," he said. "Just after my departure from my hometown, I heard that master Ablimit Qari Hajim was arrested. I was miserable when I heard this news. It was a big loss for our people and our hometown."
The minority Turkic-speaking Uyghurs in Xinjiang face pervasive ethnic discrimination, religious repression, and cultural suppression by China's communist government in the name of the fight against
separatism, religious extremism and terrorism.