A court in Thailand on Friday rejected claims that a family of 17 suspected ethnic Muslim Uyghurs held by immigration authorities for a year had been illegally detained, as the group's lawyer and supporters vowed to appeal the ruling.
The group of four adults and 13 children—two of whom were born in custody—were detained by police in Thailand after they illegally entered the country from Cambodia in March 2014, and have since been claimed as nationals by both Turkey and China.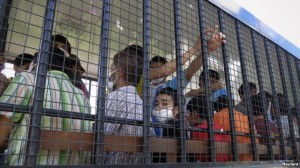 At a hearing where the detainees were not present, the court ruled that immigration authorities had the right to hold the 17, but made no decision on their nationality. According to Thai law, immigration officials must seek court permission for detentions lasting longer than a week.
The family, which claimed to be Turkish and uses the name Teklimakan, was issued Turkish passports while in detention and granted permission to travel to Turkey, but China has insisted that the 17 are Chinese Uyghurs and demanded they be returned to the country's northwestern Xinjiang region.
Seyyid Abdulkadir Tumturk, a representative of the Turkey-based Uyghur organization East Turkestan Culture and Cooperation Association in Thailand, told RFA's Uyghur Service that he had not given up hope that the family would be freed.
"Even though they were not released, it does not mean that they will be deported to China, so we do not have to be disappointed," he said.
"The lawyers will appeal their case and several human rights organizations and activists plan to send a joint open letter to the government next week, so we remain hopeful."
Tumturk called on the Thai government to honor the family's Turkish citizenship.
The family's lawyer, Worasit Piriyawiboon confirmed that he would appeal the ruling.
Nationality row
Reuters news agency reported that both Turkey and China have asked Thailand for help in repatriating the group, citing Thai National Security Council secretary-general Anusit Kunakorn, who spoke after a first hearing of the case on Tuesday.
It said Turkish diplomats at the hearing on Friday declined to comment on the verdict.
China's Foreign Ministry has said Beijing is willing to increase cooperation with countries such as Thailand to prevent illegal border crossings, but has not commented on the case itself.
China's Xinjiang region, which is home to millions of Turkic-speaking Uyghurs, has seen an upsurge in violence that has left hundreds dead since 2012, and which China has blamed on terrorists and Islamist insurgents seeking to establish an independent state.
Uyghur exiles and rights groups, however, have criticized Chinese authorities' heavy-handed rule in Xinjiang, including police raids on Uyghur households, restrictions on Islamic practices, and curbs on the culture and language of the Uyghur people, and forcing many to flee overseas, often through Southeast Asia.
rfa.org