Police in China's northwestern Xinjiang region shot and killed an ethnic minority Uyghur student motorcyclist and wounded two of his pillion riders after they allegedly ran a red light on the weekend, sparking mammoth protests over the violent action, according to residents.
High school student Abdulbasit Ablimit, 17, died on the spot after he was shot from behind by policemen on patrol late Saturday in Kelpin county in Aksu prefecture, while the two other Uyghurs who suffered gunshot wounds have been detained, the residents said.
"I'm not sure whether he did not see the red light signal or he intentionally beat the red light," a Kelpin county employee told RFA's Uyghur Service, speaking on condition of anonymity. "The police shot him from behind and killed him."
"In our county, traffic police always stop motorcyclists and check their license and ID card," said another resident, also speaking anonymously. "Possibly, the young guy did not have any documents with him and, fearing he would be fined, sped away and was shot by the police."
Anger
The shooting sparked anger among family members and relatives of the three students from Qum'eriq village in Yurchi township as well as other residents, all of whom marched to the county office carrying Ablimit's body wrapped in white cloth to protest the police action.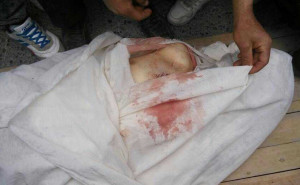 "About 400 to 500 people took part in the march, hoisting Ablimit's body," the Kelpin county employee said.
"They demanded that the authorities provide quick answers to the circumstances that led to the shooting," he said. "They also wanted the policeman who killed Abdulbasit to be punished according to the law."
Security forces blocked the path of the protesters but they changed course and marched towards Yurchi township and were again prevented from reaching their destination, eyewitnesses said.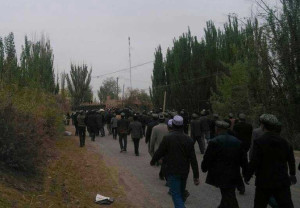 Protests dispersed
Eventually, the security forces brutally dispersed the demonstration, beating and detaining a dozen Uyghurs, including Ablimit's uncle Mahmut Hesamidin, they said.
"The police harshly broke up the protests, detaining 10 to 15 people and seizing Abdulbasit's body," according to an eyewitness.
"Abdulbasit, who lost his father when he was one year old, may have fled from the police in order to prevent his mom from paying a traffic fine of about 200 to 300 yuan [U.S. $32 to U.S. $48]," he said.
Another eyewitness who spoke to RFA said the families of the two injured pillion riders were concerned about their well-being.
"They don't know where the two boys are being held. They only know that they were riding pillion on Abdulbasit's motorcycle and were injured in the shooting."
Yurchi police confirmed the shooting and protests but declined to provide details.
Police in Gezlik township, which is close to Yurchi, also confirmed the incident but told RFA to contact the local government office for details.
"Now the situation is peaceful and under control," a Gezlik police officer said.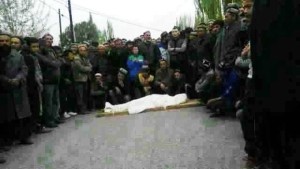 Tense situation
But residents said the situation was tense in Kelpin county with armed security forces patrolling the streets.
"I live near the suburbs of Kelpin town and I see armed security forces and military trucks passing by the streets. The situation is still tense."
China has intensified a sweeping security crackdown in Xinjiang, where according to official figures about 100 people, mostly Uyghurs, are believed to have been killed over the past year for alleged links to terrorism and separatism.
Many Uyghurs complain that they are subject to political, cultural, and religious repression for opposing Chinese rule in the resource-rich region.
http://www.rfa.org/english/video?param=value&storyId=Uyghur-MotorcycleDeath
ABOUT HUMAN RIGHTS IN EAST TURKISTAN Uyghur Foundation Stichting Oeigoeren Nederland Stichting Uighur Jurat Barat  Stichting Uyghur Oost-Turkestan Uyghur Logo Nederlanders Holland Europe HUMAN RIGHTS  Xinjiang Uyghur Autonomous Region