BEIJING — As a winter chill settled across China's far northwest, 489 people boarded a chartered train in the city of Urumqi for the 50-hour ride to the country's opposite corner, in semitropical Guangdong Province, to take up new factory jobs.
"If I can adapt to life in Guangdong, I would consider opening a restaurant and settling down there," said one passenger, Tahir Turghun, a farmer in his 30s, according to an article in the state-run newspaper Southern Daily, on the journey that began Oct. 29. He said he had never traveled outside the western region of Xinjiang, and when the opportunity to work in Guangdong arose, he immediately registered himself and his wife.
With violence upending the social order in sections of Xinjiang, where resistance to Beijing's rule has been growing among ethnic Uighurs, officials there and elsewhere in China are pushing new measures — like chartering entire trains — to bring Uighurs and members of other ethnic minorities to parts of the country where the Han, the nation's ruling ethnicity, are the majority.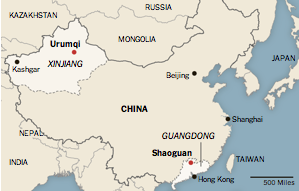 Strengthening the labor export program is a major component of a push by the central government to try to assimilate Uighurs, a mostly Muslim, Turkic-speaking people, into mainstream Han culture. But such programs have themselves contributed to past ethnic hostilities, including an explosive episode in 2009.
The policy comes from the top. At a two-day work forum on Xinjiang in May, President Xi Jinping expressed support for sending more Uighurs to work and be educated in Han areas "to enhance mutual understanding among different ethnic groups and boost ties between them," according to a report by Xinhua, the state news agency.
That was preceded by a conference in September 2013 in which other top party leaders called for local governments across China to help find work for members of ethnic minorities in Xinjiang. (Uighurs in Xinjiang complain about losing jobs to Han migrants, whose relocations to the region are supported by the state.)
Assimilation is only one element of the party's strategy to quell ethnic unrest in Xinjiang. Security forces there have arrested large numbers of Uighurs, saying some are terrorists, and courts have issued death sentences. In September, judges in Urumqi sentenced Ilham Tohti, a moderate Uighur professor of economics who lived in Beijing, to life imprisonment for what officials called separatist activities.
Guangdong Province plans to import 5,000 workers from Xinjiang over the next three years, according to China Daily, an official English-language newspaper. More than 1,000 have made the move this year. On Oct. 20, the Guangdong government posted online guidelines for the program; among the rules were that workers must undergo "ideological and political review" and that a Xinjiang official must accompany every 50 workers.
The group that left Urumqi on Oct. 29 was the largest to date for the labor program; officials from both Xinjiang and Guangdong attended a departure ceremony. The future factory workers aboard appeared to be mainly ethnic Uighurs, judging from their names and places of origin as reported by state-run media.
"They have all gone through the training, political review and physical examination," Cheng Peng, a local official who accompanied the workers, said in a telephone interview from the train. "The training subjects include ethnic unity, the law and Mandarin Chinese, as well as the factories' regulations and routines." Ethnic unity training "is about how the ethnic minorities communicate with mainland Han people, like in etiquettes and manners," he added.
Because of recent outbreaks of violence, including a deadly knife attack carried out by Uighurs last March in a train station in southwest China, "people have a bias against Xinjiang people," Mr. Cheng said. "We need to establish a new image."
Mr. Cheng is an official in Shufu County near Kashgar, which he said had been sending laborers across China since 2006. Though neither he nor the state media reports mentioned it, the county's policy of exporting Uighur labor set the stage for a factory brawl that led to deadly rioting in Urumqi in 2009, in which at least 200 people were killed.
The brawl took place at a toy factory in Shaoguan, Guangdong, in June 2009, after several weeks in which 800 Uighur workers from Shufu County had gradually arrived at the factory. Rumors that Uighurs had raped two Han women spread among the factory's 16,000 Han workers, and a four-hour melee erupted. Two Uighur men were killed and 120 other people were injured, according to official reports.
A large protest by Uighurs in Urumqi followed, calling for an investigation of the Guangdong violence. That culminated in the Urumqi riot, which was the deadliest outburst of ethnic violence in China in decades.
At that time, people in the Kashgar area said various means had been used to ensure the export of Uighur labor, including threatening reluctant families with enormous fines. Some Uighur men said they were particularly upset at the recruitment of young, unmarried Uighur women. Some families, though, said they welcomed the economic opportunities provided by the labor export program.
The six Guangdong companies employing the latest batch of workers will receive subsidies from the provincial government. James Leibold, a scholar of China's ethnic policies at La Trobe University in Melbourne, Australia, who now lives in Beijing, was skeptical that the program would result in much actual "mingling" between the ethnic groups, given that Guangdong officials would want to avoid conflict of the kind seen in 2009.
Local officials' "inclination is towards keeping the Han and Uighurs separate and maintaining the status quo when it comes to ethnic issues and work," Dr. Leibold said. "In this case, I imagine there was a great deal of political horse-trading involved in getting these six Guangdong companies to accept the Xinjiang workers."
Dr. Leibold said he expected "a good deal of heel-dragging and feigned compliance" with the Uighur assimilation program across China.
"The gap between the Han and Uighur communities has widened significantly since 2009," he said, "and it's hard to imagine these sort of state-orchestrated cohesion-building projects narrowing it."