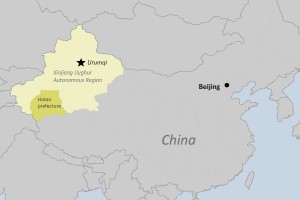 A water conservation project in a remote prefecture of China's Xinjiang Uyghur Autonomous Region (XUAR) begun two decades ago has yet to bring clean drinking water to more than half of the area's population, according to officials and local residents.
According to a joint report by the Water Conservancy Office of southwestern Xinjiang's Hotan (in Chinese, Hetian) prefecture and the regional Water Conservancy Department, more than one million of Hotan's two million residents lack potable water, the website Taianshen.net reported recently.
The conservation report said 20 years after the water project had begun, only 750,000 people in the prefecture had access to clean drinking water, while in areas such as Hotan's Niya (Minfeng) county, up to 80 percent of the population did not.
The issue was raised on Jan. 20 at the Third Meeting of the Twelfth People's Congress of the XUAR, Taianshen.net reported, adding that representatives blamed the shortfall on the water project being designed according to population statistics in 1995, when it was launched.
Residents of Hotan told RFA's Uyghur Service that most of the infrastructure set up through the project lacked sanitation stations and water was instead being piped directly from reservoirs to people's homes in the prefecture, leaving residents susceptible to waterborne diseases and other contaminants.
"We use piped water in Keriya (Yutian) county—it's been like that for years, at least five or six," a Uyghur farmer from the county's Achchan town said, speaking on condition of anonymity.
"The water source is pretty far away. They build a reservoir and water is brought directly from there through the pipes. It hasn't been purified or disinfected. There is no facility there and this is a remote town, so … if there are any waterborne diseases, we are out of luck."
The farmer said that a number of years ago, inspectors came to the area and proclaimed the water suitable for consumption, so residents continued to drink it.
"So far, we haven't seen anybody get sick from the water," she said.
A water official in Achchan confirmed that his town relied on piped river water that simply had sediment removed from it.
"The source of our water is from the river—it's brought to the reservoir where it sits for three or four days and then it is sent to people's homes by pipes," the official said.
"We don't have any disinfection process involved here. It is just being sent out after the mud settles out of the water," he said, before cutting the conversation short.
Similar methods
Further investigation by RFA revealed that similar methods of delivering water had been used in other parts of the prefecture as well.
A police officer in Hotan's Lop (Luopu) county told RFA that the area's water sources were reservoirs without sanitation stations.
"The entire county uses piped water to drink, though I can't speak for other counties," he said.
A female official from the Water Conservancy Office of Qaraqash (Moyu) county said the area uses two reservoirs—one to store water and the other to drain off sediment and transfer water to households.
"I don't have specific data with me on the disinfection and water quality standards, however we have inspectors come to test the water," she said.
The official said Qaraqash also has wells, which supply water to the county's urban centers, while river water is sent to rural residents to drink.
"We use a disinfection process in our urban centers, but I can't say for sure whether they do so in the villages, as I have not seen it with my own eyes," she said.
Dilxat Raxit, spokesman for the Germany-based World Uyghur Congress (WUC), said the 1995 water conservation project had done little to improve the lives of Hotan prefecture's residents.
"It is a scam that China's claim of a clean water project has been realized in the Hotan region," he said.
"This project has only changed one thing—now farmers are paying for the water that they used to drink for free."
Scarce resources
Uyghurs say they have long suffered ethnic discrimination, oppressive religious controls, and continued poverty and joblessness in Xinjiang despite China's ambitious plans to develop its vast northwestern frontier.
They say local authorities often allocate water and provide other incentives—including grants for seeds and fertilizers—to Han Chinese farmers who have streamed to the region as part of a growing influx of internal migrants, putting a strain on area resources.
In January last year, experts told RFA that the Xinjiang capital Urumqi is quickly depleting its available sources of water and faces a looming crisis made worse by a rapidly growing population and mismanaged environment.