Payzulla Polat doesn't want to talk about politics. And who can blame him? If his homeland of Xinjiang—a massive frontier province in northwest China—is ever in the news, it's for terrorist attacks and human rights violations. He prefers to talk about music and food.
The 33-year-old Boston resident is the owner of Uyghur Kitchen, the only Uyghur food truck in America. Uyghurs (pronounced wee-gur) are a Turkic, mostly Muslim ethnic minority in China, but the dominant ethnic group in Xinjiang. To say that they don't get along well with the Chinese government would be an understatement.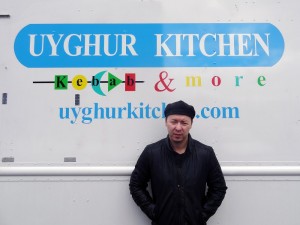 The Uyghurs are among the world's most persecuted minorities. Many of them desire an independent state, though they might not say it to your face; security forces in China regularly imprison outspoken Uyghurs, oftentimes on baseless charges of "separatism" and "extremism." Tensions between Uyghurs and the Chinese government remain high and sometimes result in violence, which erupted when I was there last summer. In our post-9/11 world, the Uyghurs are China's terrorist scapegoats, the Islamic boogeymen with dark skin and scary beards.
But Polat doesn't have a beard or any apparent political agenda. He has a brand-new food truck and a chalkboard menu offering rice pilaf dishes, kebabs, and chicken and lamb wraps filled with tomato, onions, lettuce, and yogurt sauce. It's a small slice of home in a place nothing like it.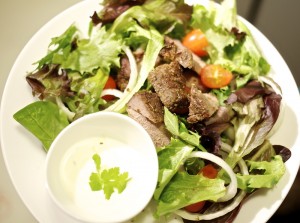 We are squeezed into his food truck after a busy lunch rush outside a tech startup in Cambridge, Massachusetts. His food truck partner and longtime friend Kamil, a Uyghur artist recently arrived from Xinjiang, packs up the metalware around us as Polat tells me about his life before Uyghur Kitchen.
Polat left China in 2008 at the age of 27 and relocated to Los Angeles to attend the LA Music Academy. A music virtuoso, he got his first professional gig as a teenager, playing bass in Beijing for a flamenco-rhumba-Uyghur fusion band called Afangi. "The other bandmates were like 35," he recalls. "I was kind of the son of the band." He speaks English—his third language after Uyghur and Mandarin—with a slightly Californian accent.
As a kid, Polat was enamored by tape cassettes of Metallica and Poison brought in from Russia—rare finds in China then. "One day it was like, 'Look at these dudes, they've got long hair and a jacket and chains, but they're cool, man!'" He was hooked. The son of a painter and a musician, Polat was sent to art school as an adolescent to study bass in the music department, and then relocated to Beijing to play with Afangi. "It was a good time. We had a lot of success; a lot of festivals and touring."
Polat's reputation as a reliable bass player spread, and people began offering him projects, including a spot in the Uyghur rock band Gray Wolf. They garnered a significant degree of fame as they appeared on TV shows, played festivals, and toured through Asia and Europe. (Here's a video of Grey Wolf playing in Beijing. Polat can be seen slapping the bass around the 4:00 mark.)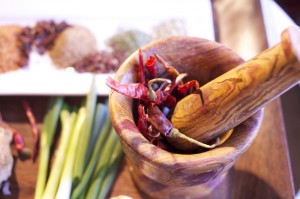 The musician-turned-food-trucker sees similarities between his two trades. "It's the same thing. When you mix a song, you put in reverb, delay, EQ, compression, whatever; it's just like you put salt and pepper on food. If you put in too much, that's gonna ruin the whole thing. And if the tune itself is good, you don't need to put anything on it, you know?"
Polat also sees himself as a cultural ambassador. "A lot of people are getting to know Uyghurs through my food. They didn't know us before," he says, "Most of the time they pronounce Uyghur 'yogurt.'"
When I ask the final customer of the lunch rush, a well-dressed twenty-something from the tech startup nearby, if he's ever heard of the Uyghurs, he chuckles, "No. What, are they from Turkey or something?"
It's not a bad guess; Uyghur food is similar to Turkish. They are both generally halal, and contain a lot of spiced and roasted lamb, beef, and chicken kebabs. But it is Xinjiang's geographical location that makes its food stand out. With Russia to the north, Central Asia to the west, Tibet to the south, and China to the east, Uyghur cuisine carries elements from all of its neighbors. Its meaty noodle soups show Chinese influence. Its flatbread (called nang in Uyghur), baked on the inside wall of a circular oven, shows influence from the Arab world, brought to Xinjiang through Central Asia. And its samsa, mutton-stuffed bread dumplings cooked in the nang ovens, point north to Russia.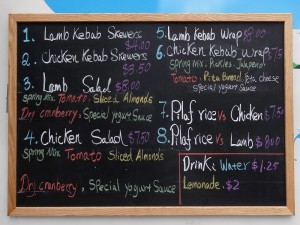 Due to strict food regulations, Polat's only allowed to serve a limited menu in Boston, so he sticks to kebabs and wraps. He had come up with the idea for a Uyghur food truck years ago while out in California. "In Los Angeles, there's a lot of food trucks down there, you know?" he says. "That's where I got the idea to start my own food truck with Uyghur food." After he graduated music school in LA, he came to Boston in 2009 to attend the Berklee College of Music on a scholarship. At the time, the food truck scene was virtually nonexistent. But after a couple years, more and more of them began to appear, going from just a handful in 2011 to around 100 today, according to Polat. He finally decided to get in on the action last spring.
Now a year in, the business is going well. Setting up outside corporate offices and festivals is making Polat good money to support his wife and two kids. He's heading into his final semester at Berklee, and a month ago began playing in a jazz-rock band called Background Orcs.
In the cramped Uyghur Kitchen truck, Polat starts preparing a lamb wrap for me. Being an annoying reporter, I ask him once more about the political situation in his homeland. "I don't want to talk about politics man," he says, "Just music, food, and my culture."
Oeigoerse eten uighur music food  culture ujgur eten Oeigoerse voedsel voedsel ujgurok élelmiszer uighur food Уйгурский еда Uygur Yemek уйгурский еды lagman ウイグル食品 维吾尔族食品