CAIRO — At least 12 Chinese nationals were deported and put on a flight to China late Thursday, and 22 more were detained for immediate deportation, three Egyptian aviation officials said.
According to a Chinese student who said he was friends with some of those detained, all were Uighurs, members of an ethnic group that is mostly Sunni Muslim and lives mainly in the western Chinese region of Xinjiang. The student, Muhammed Emin Nurmuhammed, said that his friends had been studying at Al Azhar, a mosque and university in Cairo.
Two of the aviation officials said that the Egyptian police had ordered them to deport at least 22 Chinese nationals on Thursday without providing an explanation. They were held at a police facility and were to be put on a flight that was scheduled to leave just before midnight.
At least 12 others were forced to leave on an EgyptAir flight to Guangzhou, a third aviation official said. All three aviation officials asked for anonymity to discuss the episodes.
Tarek Attiya, a spokesman for the Egyptian police, said that he could not confirm or deny the deportations.
Al Azhar, Egypt's Aviation Ministry and EgyptAir did not respond to repeated requests for comment.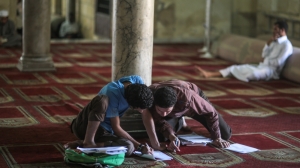 Mr. Nurmuhammed, who is Muslim and lives in Istanbul, said his friends had been living in fear of arrest for several weeks. "They were scared because the Chinese government told everyone who is studying Islamic studies to come back," he said. "They were worried about getting arrested in Cairo but they decided because they knew that if they go to China, they will definitely get arrested."
The repatriations seemed to be in support of the Chinese government's deepening effort to stifle resistance among Uighurs in Xinjiang, which neighbors Central Asia.
In recent years, Xinjiang has seen protests and attacks by Uighurs, resentful of a growing Chinese presence there. In response, the Chinese government has tried to roll back the influence of Islamic traditionalism among Uighurs, a Turkic people. Increasingly that effort has spilled abroad, especially in Turkey and the Middle East, where many Uighurs go to work or study.
Mr. Nurmuhammed said that at least two of his friends had wives and children in Cairo.
"I spoke to one wife who said she was hiding on the roof of their home because she doesn't know where to go," he said. "And I spoke to another one who was just walking around the neighborhood. They are panicking."
Mr. Nurmuhammed's friends shot videos of themselves in detention using their phones and told him through WhatsApp that at least 75 other Chinese people were in custody.
The footage shared by Mr. Nurmuhammed could not be independently verified but it was widely shared on social media. One video shows people standing inside what looked like a government building with Egyptian police signs on the wall. Other videos show the men handcuffed inside a van.
More than 80 Uighurs are currently detained in Cairo, at least 10 of whom were arrested on July 1, according to Lucia Parrucci of the Unrepresented Nations and Peoples Organization, which represents the World Uyghur Congress, an advocacy group based in Germany. "This is all because of the recent cooperation that is taking place between Egypt and China," she said.
"We believe that 90 percent of them left since then," she said, adding that 60 Uighurs had successfully fled to Turkey from Egypt on Thursday. At least 20 of the Uighurs still in Cairo are currently trying to seek political asylum through the United Nations refugee agency, she said.
"People are scared," and so it is difficult to verify information, Ms. Parrucci said.
Correction: July 8, 2017 
An article on Friday about the Egyptian police detaining and deporting Chinese citizens of the Uighur ethnic group referred imprecisely to Lucia Parrucci, a spokeswoman for the World Uyghur Congress. She is associated with the Unrepresented Nations and Peoples Organization, which represents the congress; she does not work directly for the congress. The article also misstated the congress's estimate of the number of Uighurs detained in Cairo. Eighty was how many congress estimated were being held, not how many had been arrested since July 1.