Authorities in an ethnic Uyghur county of northwest China's Xinjiang region have ordered that all tools used for cutting must be registered with police, with the user's ID number engraved on the blade of each tool in an apparent bid to discourage its use as a weapon, sources say.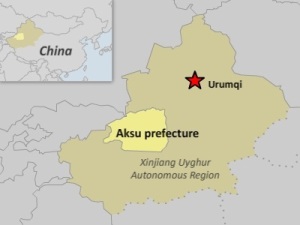 The Jan. 8 order issued in Aksu (in Chinese, Akesu) prefecture's Onsu (Wensu) county covers pocket knives and butcher's knives, axes, adzes, scissors, and other bladed tools, with compliance demanded by Jan. 10, sources told RFA's Uyghur Service.
"We have already finished," one Onsu resident said, speaking on condition of anonymity.
"We had 11 tools, including scissors and axes. My husband's ID number was engraved on them," she said.
"The Onsu police department designated a place to do this in every neighborhood, so we took our tools there."
"The whole county is doing this," she added.
"Yes, we had all our bladed tools engraved with our ID number," a second Aksu resident said. "We used my father's ID number to have this done."
Reached for comment, an Onsu county township police officer confirmed the order had been given.
"I don't know where to do this, though. The police officer responsible for stability maintenance knows where tools should be taken to be registered," he said.
China has vowed to crack down on what it calls the "three evils" of terrorism, separatism, and religious extremism in Xinjiang, but experts outside China say Beijing has exaggerated the threat from Uyghur "separatists" and that domestic policies are responsible for an upsurge in violence that has left hundreds dead since 2012.
On Sept. 18, 2015, a group of knife-wielding suspects attacked security guards and workers at a Chinese coal mine in Asku's Bay (Baicheng) county, killing some 50 mostly Han Chinese mine employees. Nearly 50 others were injured in the attack.
Rights groups accuse the Chinese authorities of heavy-handed rule in Xinjiang, including violent police raids on Uyghur households, restrictions on Islamic practices, and curbs on the culture and language of the Uyghur people.
Uighur Culture and history Uighur Tours human rights Silk Road Uighur Uighur Tours uyghur people