Order to hand over passport to police raised eyebrows because Xinjiang is home to China's minority Uighurs
Beijing: Hand your passport to the police or it will be cancelled, read the notice to all 4.4 million residents of far-northwestern China's Ili Kazakh Autonomous Prefecture.
The demand would now seem outrageous to most Chinese, who, more than a decade since passport restrictions were eased, have become increasingly accustomed to travelling abroad for tourism, study or work.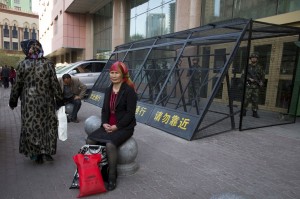 Yet the story is vastly different for groups targeted by the ruling Communist Party, which has long denied passports to dissidents who might embarrass the party overseas. Now that most Chinese can easily obtain passports, eroding barriers to travel have thrown into relief a new pattern showing that entire ethnic groups deemed potentially risky to the leadership — such as Muslim Uighurs and Buddhist Tibetans — are largely being barred.
By denying them opportunities for jobs, education and overseas connections, the withholding of passports has become one of the party's most potent weapons against dissent, both real and imagined.
The notice in Ili, part of the vast Xinjiang region bordering Central Asia, set a May 15 deadline for residents to hand in passports "for safekeeping." It gave no reason for the demand.
The order raised eyebrows because Xinjiang is home to China's minority Uighurs, Turkic Muslims who are culturally and linguistically distinct from the country's Han majority. Uighurs (pronounced WEE-gurs) have come under increasing scrutiny because radicals have waged a low-level campaign of violence against Chinese rule. This has resulted in heightened unofficial barriers on travel even within China, such as difficulty booking air tickets or hotel rooms.
China is eager to avoid the appearance of discrimination against ethnic minorities, including Uighurs and Tibetans, and an officer at police headquarters in the prefectural seat of Yining said the order applied to all ethnic groups. The officer, who like most Chinese bureaucrats declined to be identified by name, said passport holders would be required to reapply and submit documents stating their reason for travelling and ensuring their good reputations if they wished to get them back.
It's not clear how many Ili residents were complying with the order and only two out of a dozen company workers reached by phone in the prefecture said they had even heard of it.
Uighurs and Tibetans, who together number about 16 million inside China, have increasingly complained about difficulties obtaining passports, including the need for government approvals that members of the majority Han group aren't subject to.
Permission is often limited to those participating in government-backed exchanges, or in the case of Uighurs, Muslims performing the pilgrimage to Mecca. The government-backed Chinese Muslim Association said about 14,500 Chinese Muslims went on the hajj last year, but didn't say how many were Uighurs.
While the government says only that the restrictions are to maintain social order, minority activists and critics of the one-party communist system believe politics are the real reason.
"The government fears that Uighurs will return with a better understanding of their conditions and greater determination to throw off Chinese rule," said Germany-based Uighur activist Dilshat Rexit. "Limits on passports reveal the government lack of confidence in facing threats to its rule in Xinjiang."
For Tibetans, already severe restrictions were tightened further in 2012 when hundreds of Buddhist pilgrims were detained and interrogated after attending a religious event in India presided over by the Dalai Lama, Tibet's exiled religious leader who is reviled in Beijing, say overseas activists.
As with the Uighurs, China is deeply concerned about the growth of separatist sentiment among Tibetans, as well as their connections to the Tibetan diaspora and the sympathy and support they receive from overseas boosters.
Tibetan writer and rights activist Woeser Tsering says she's consistently been refused a passport since first applying in 1997. During her most recent attempt in 2012, a police officer told her she'd been placed on a list of people banned from leaving the country by the Ministry of State Security, she said.
"Not having a passport has an enormous impact on my life," she said. The inability to travel has made her unable to take up offered writing positions in the US and Germany. "I had no choice but to give them up, all because of not having a passport."
Individual travel overseas for ordinary Chinese was first permitted in the late 1990s, and took a massive leap in 2004, when most European countries were designated as approved destinations and requirements for passports, such as an endorsement letter from an employer, were simplified.
Cheng Fan, a veteran of the 1989 student-led pro-democracy movement, has never been able to obtain a passport. Like many present or former government critics, his applications are answered with a one-page document from police stating that a "relevant Cabinet agency" has ruled that if allowed to travel abroad, he would "pose a threat to national security or cause serious harm to national interests."
"It's extremely frustrating, especially when you have a family and want to show them new things," said Cheng. "It's denying my rights as a citizen."
With a record 107 million Chinese going abroad last year, the inability to travel internationally stigmatises and deprives.
It's not known exactly how many Chinese citizens are denied passports, had them seized or were simply turned away at the airport when attempting to board international flights. The Public Security Ministry's Entry and Exit Supervision Bureau did not respond to questions from The Associated Press, and the Foreign Ministry and Tibetan officials said they had no information on the issue.
Concerns over Uighurs have been heightened by the growth of global extremist groups, said Dru Gladney, an expert at Pomona College. Yet, travel restrictions will likely only add to the "pressure cooker" of ethnic discontent in Xinjiang, he said.
"I think it's a self-defeating strategy. China is a global country, engaged in the world and trying to become a global player, yet it still has these very medieval rules," Gladney said.
While passport denials can theoretically be appealed, it's unclear whether any have ever been successful, although some have managed to receive passports when reapplying later for reasons that remain a mystery.
Human rights lawyer Teng Biao had his passport confiscated at the airport in 2008 when he was trying to go to an overseas conference. Four years later, he reapplied, saying his passport had been lost. A new one was promptly issued.
"They said nothing when giving me the new one," said Teng, now a visiting fellow at Harvard Law School.
Others denied the right to travel range from imprisoned Uighur scholar Ilham Tohti to artist Ai Weiwei, whose passport has been confiscated since a 2011 detention even though his works are shown around the world.
A growing number of Chinese overseas putting off returning home for fear of not being allowed out of the country again, said Columbia University China expert Andrew Nathan. Often the criteria for being denied is murky, he said.
"Police being police, and wanting to do their jobs and avoid mistakes, they would use their judgement and deny passports or exit permits for whatever reason made sense to them," Nathan said.
Source: washingtonpost.com