Beijing: Chinese authorities are collecting DNA samples, fingerprints and other biometric data of millions of people in the country's far western Xinjiang region, Human Rights Watch (HRW) said in a report on Wednesday.
Officials are also building a database of eye scans and blood types of everyone aged between 12 and 65 in the region, adding to controls in a place some experts called an "open-air prison", the Guardian reported.
The data can be used for "surveillance of persons because of ethnicity, religion, opinion or other protected exercise of rights like free speech", Human Rights Watch said.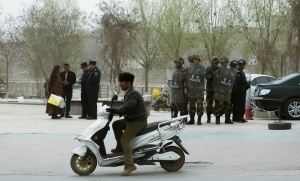 Xinjiang has long been subject to tight controls and is home to over 11 million Uighurs, a Muslim Turkic minority. Heavily armed troops in the region are a common sight.
Authorities frequently hold mass rallies in the region to bolster their support in the fight against the Islamic extremists Beijing blames for a series of attacks on government officials and civilians.
But rights groups said most of the violence stemmed from restrictions on religion, culture, language and expression as well as a lack of economic opportunities in the impoverished region.
According to HRW, part of the collection was being done through government-provided medical check-ups and it was unclear if patients were aware that the exam was also designed to transmit biometric data to the police.
Although the checks were officially voluntary, one Uighur said local cadres "had demanded that they must participate in the physicals".
Nearly 19 million people participated in the medical exams, dubbed "Physicals for All" in 2017, state news agency Xinhua reported.
"The mandatory databanking of a whole population's biodata, including DNA, is a gross violation of international human rights norms," said Sophie Richardson, China director at HRW.
However, officials in the region claimed the scheme was meant to improve policies aimed at poverty alleviation. They also said it was targeted at "social stability".
Police in Xinjiang bought DNA sequencers from the US company Thermo Fisher Scientific, according to HRW.
The company refused to directly address its products being used in Xinjiang, saying: "We do expect all of our customers to act in accordance with appropriate regulations and industry-standard best practices."
The Ministry of Public Security and the Xinjiang Uyghur autonomous region government did not comment on the move.
Source: firstpost.com