Explosions at a crowded market killed 31 people and injured 94 others on Thursday morning in Urumqi, the capital of the restive Xinjiang region of China, in what officials called a "violent terrorist attack." It was the deadliest burst of violence this year, highlighting a growing challenge to Chinese rule in a region that is home to the mostly Muslim, Uighur ethnic group.
Shortly after the blasts, President Xi Jinping "pledged to severely punish terrorists and spare no efforts in maintaining stability," Xinhua reported.
The series of explosions hit at 7:50 a.m., with witnesses cited by Xinhua, the state news agency, saying that two "cross-country vehicles" plowed into market crowds and explosives were thrown from them.
One of the vehicles exploded in the market, Xinhua said, citing someone in the market who said that there had been a dozen big bangs. Saloshka, a woman who said she was about 100 paces from scene, said on her Sina Weibo account that the casualties were "elderly grandpas and grannies" at market early.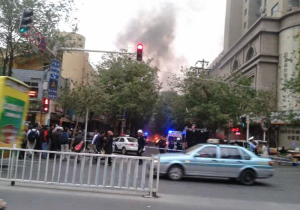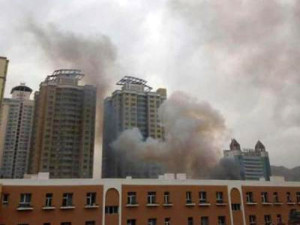 Photographs said to be from the scene showed injured people, many elderly, lying on the ground, some being dragged away by others and loaded onto tricycles or ambulances, with blood stains amid scattered vegetables and personal belongings. Others sat on stools or the ground, appearing dazed. A large fire raged in the background.
Tianshan Net said the explosions happened in the Shayibake District on North Park Street. The district is known as Saybagh in Uighur, but according to Chinese media reports is almost entirely inhabited by people of Han ethnicity. Urumqi is a segregated city, with Uighur and Han mostly living apart.
People's Daily, the Communist Party newspaper, cited witnesses saying that two cars drove by the site of the attack followed by a series of explosions. Xinhua named the nearby park as People's Park.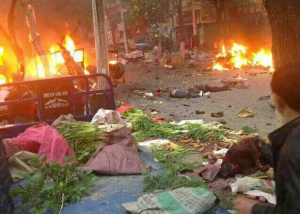 Guo Shengkun, the minister of public security, traveled to Urumqi with a team to investigate, after directing operations from Shanghai earlier in the morning, according to a report on the public security bureau's website run by major Chinese Internet portals such as Sohu and Tencent. The report cited Meng Jianzhu, the country's security chief, as saying "terrorists' unbridled arrogance must be smashed."
Xinjiang has seen increasing violence with scores of Uighurs and Han, who are China's biggest ethnic group, killed in knife, gun and other kinds of attacks.
Recently, the Chinese government said three people, including two attackers, were killed in a blast at Urumqi South Railway Station the day President Xi Jinping ended his first tour of the region. In early March, 29 people were knifed to death at Kunming train station by attackers said to be from Xinjiang.
Rohan Gunaratna, a professor at Nanyang Technological University in Singapore who studies terrorism in Asia, said the attack showed the Chinese government should rethink its approach to counterterrorism in Xinjiang. It should focus on winning the support and trust of Uighurs so that they do not view militants with sympathy and instead help the government in its effort to gather intelligence, he said.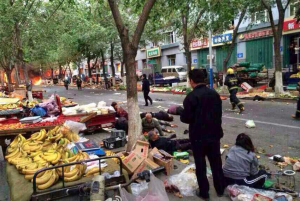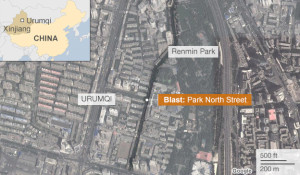 "Unless China improves its counterterrorism capabilities these attacks will continue and the terrorists will become more brazen," Mr. Gunaratna said in a telephone interview. "Every successful terrorist act is an intelligence failure."
No group has so far claimed responsibility for the attack, as is usual in Xinjiang. Yet yesterday and today, the Pakistani military carried out attacks against militants in North Waziristan, with one security official saying a Uighur-led group, the East Turkestan Islamic Movement, was the target. At least 73 local and foreign militants were killed in the operations, Dawn, a reputable Pakistani newspaper, reported.
The Chinese government has often blamed ETIM for terrorist activity in Xinjiang. But one Chinese person involved in government counter-terror efforts said, "It's actually not so accurate to say these attacks are 'organized' by groups based abroad and so on. They generally don't have those sorts of capabilities within China. 'Influenced' is a more accurate word," he said of the role of the Uighur independence movement and jihadi groups. Uighur independence activists, whom the Chinese government calls "splittists," want to set up a country called East Turkestan in Xinjiang. The region has been semi-independent from China in the past.
The Chinese expert declined to be identified because he was not authorized to speak on the record.
Many Uighurs complain of increasing repression by the Han, who they say are trying to stamp out their native customs, including language. Central government authorities say that their policies take into consideration the Uighurs' traditions and religion and that the state gives them preferential policies in education and permit them more children than the Han are generally permitted.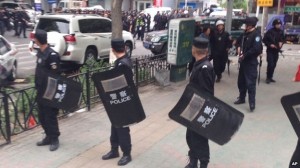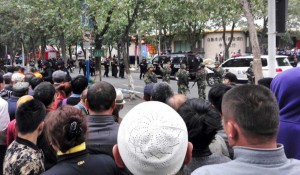 Cao Zhiheng/Xinhua, via Associated Press
In this photo released by China's Xinhua News Agency, police officers stand guard near a blast site which has been cordoned off, in downtown Urumqi.
Tensions are expected only to grow over the next weeks: July 5 marks the 5th anniversary of riots in Urumqi between Uighurs and Han that killed about 200 people.
"Since the July 5 incident Uighur-Han relations have markedly deteriorated," said Yang Shu, Director of Institute for Central Asia Studies of Lanzhou University in northwest China. "The July 5 incident was a watershed." He said much of the material promoting Islamic extremism and techniques like bomb-building was coming from overseas.
Mr. Yang, who studies unrest and religious militancy in Xinjiang, said China was likely to experience continued attacks from Uighur militants, despite the government's repeated efforts to extinguish the threat. "Afghanistan, Iraq, Egypt, the countries of North Africa, all of them regard Islamist extremism as a major social threat, but none have them have been able to get rid of it," he said.
"In China it might be even more difficult," because of the ethnic division between Uighurs and Han. "For Islamist extremists in China there's also this issue of ethnic identity, and that adds to the extremist hatred," he said.
Also in Urumqi, on Wednesday, the Supreme Court presented what it said were 16 recent "model cases" for terrorism convictions, with 39 people convicted by six courts around the region for the crimes of involvement, organizing, leading and participating in organized terrorist activities; inciting ethnic hatred or discrimination; and the illegal manufacture of guns. The defendants were "all legally sentenced to jail, the longest term being 15 years," China News Service reported.
The Uighurs account for a little under half of Xinjiang's population of 22 million, with the Han now making up about 40 percent, up from about 6.7 percent in 1949 when the Communist government came to power. Xinjiang is also home to other ethnic groups such as the Kazakh and Kirghiz.