More than 200 Uyghurs fleeing ethnic tension in China's restive northwestern Xinjiang region have been detained in Thailand and face deportation back home where they could be punished, according to some of their relatives.
Thai police on Wednesday swooped down on a secret camp in a mountainous rubber plantation in Songkhla province in southern Thailand where the 235 mostly Muslim ethnic minority Uyghurs were believed to be waiting to be smuggled across to neighboring predominantly Muslim Malaysia, the relatives said, speaking from Malaysia and Turkey.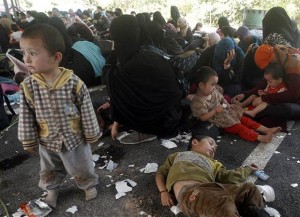 The Turkic-speaking Uyghurs had initially told the Thai authorities that they are from Turkey, fearing they would be deported back to Xinjiang if their true identity is revealed, a relative told RFA's Uyghur Service, speaking from Malaysia. Thai authorities have already informed Chinese diplomats in Bangkok about the group's illegal presence in Thailand, the source said, speaking on condition of anonymity. "The detained Uyghurs have spoken with Thai officials through an interpreter and they described themselves as Turkish in order to prevent any departure to China and with expectations of assistance from Turkey," the source explained. Thai authorities showed the detainees flags of different countries, including China, to identify their nationality but they refused to acknowledge Chinese citizenship, the relatives said. "Today a Chinese delegation, probably from the Chinese Embassy in Bangkok, went to them and said, 'You are Uyghurs, we can take you to China, don't worry,' but the detainees did not say anything to the delegation except, 'We are Turkish.'" "The detainees are so nervous as China has already intervened in the case."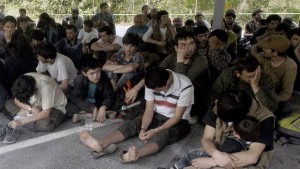 Detention center
The Uyghurs have been taken from the camp to a detention center in southern Thailand, sources said. Thailand and Malaysia and several other Southeast Asian neighbors—such as Vietnam, Cambodia, and Laos—with strong trade and diplomatic ties to China have deported Uyghurs home in the past, following pressure from China. According to the two relatives of the Uyghurs held in Thailand, they fled Xinjiang in the hope of gaining political asylum through the office of the United Nations High Commissioner of Refugees (UNHCR). "Since it is very dangerous and difficult for Uyghurs to reside in the interior Chinese provinces, they have fled to Thailand using all possible means and to eventually seek political asylum through the U.N.," a relative from Turkey said. "Since there are no Uyghurs residing in Thailand to assist them, they wanted to enter Malaysia to get in touch with U.N. officials and request political asylum, but were detained in the process."
Several batches
Other sources told RFA that the 235 Uyghurs may have arrived in Thailand in several batches over a couple of months. Many minority Uyghurs in China's Xinjiang Uyghur Autonomous Region say they are subjected to political, cultural, and religious repression for opposing Chinese rule in their homeland, as well as denied economic opportunities stemming from rapid development of the northwestern region. They blame the problems partly on the influx of majority Han Chinese into the region. China has intensified a sweeping security crackdown in Xinjiang, where according to official figures about 100 people are believed to have been killed over the past year-—many of them Uyghurs accused by the authorities of terrorism and separatism. Rights groups and experts say Beijing exaggerates the terrorism threat to take the heat off domestic policies that cause unrest or to justify the authorities' use of force against Uyghurs. Many Uyghurs refer to Xinjiang as East Turkestan, as the region came under Chinese control following two short-lived East Turkestan republics in the 1930s and 1940s.
"The experience over the past few years shows that people who leave China illegally and try to seek political asylum abroad are severely punished upon their forceful return," a Uyghur source said.
Past deportees
Uyghur exile groups have criticized the Chinese authorities in the past for consistently refusing to provide information on the whereabouts and legal status of Uyghurs who had been deported home, although Beijing had assured the international community that the deportees would be dealt with transparently upon their return. In 2012, two Uyghur asylum-seekers who were deported back to China from Cambodia were sentenced to life imprisonment in a punishment imposed in secret by Chinese authorities and described as severe by rights groups, family members told RFA at the time. The duo were among 18 Uyghurs from Xinjiang who were believed sentenced to various prison terms since Cambodia deported them on Dec. 19, 2009. Another Uyghur in the same group that was deported was sentenced to 17 years in prison. The jail terms of the 15 other Uyghurs were not known. The Uyghurs had fled from China in small groups between May and October 2009 and had applied to the UNHCR for refugee status in Phnom Penh.
ABOUT HUMAN RIGHTS IN EAST TURKISTAN Uyghur Foundation Stichting Oeigoeren Nederland Stichting Uighur Jurat Barat  Stichting Uyghur Oost-Turkestan Uyghur Logo Nederlanders Holland Europe HUMAN RIGHTS  Xinjiang Uyghur Autonomous Region